COMMPAK IP
The COMMPAK IP gives traffic control and maintenance personnel an easy, affordable wireless system to extend IP based and serial networks beyond existing infrastructure.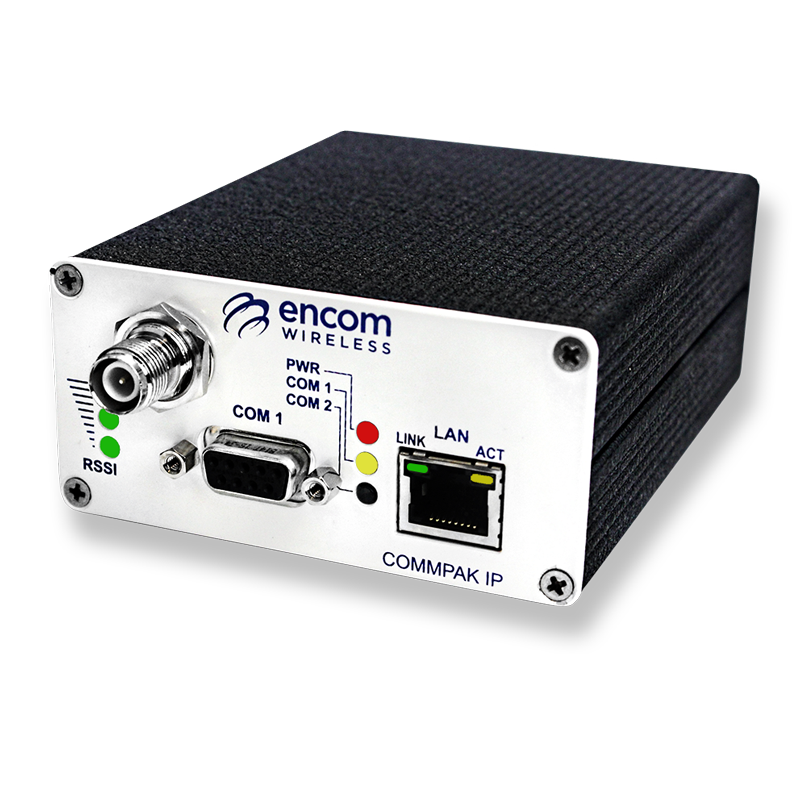 Acting as a wireless bridge, the COMMPAK IP provides Ethernet connectivity for multiple IP based traffic management devices. This is the perfect solution for the following applications:
Extending an Ethernet system to more intersections
Bringing back multiple data streams from traffic controllers, video cameras, and traffic detectors over a reliable long range wireless data link
Serial controller interconnect and high-compression video over the same link
With a powerful 1W FHSS radio operating on license-free 900 MHz frequency, this unit is optimized to mitigate line-of-sight obstacles and act as a Master access point, a Remote or as a Repeater with two serial ports and one Ethernet port operating simultaneously.
Key Features
Bandwidth capacity of 1.2 Mbps to support multiple communications in one traffic cabinet simultaneously
Sustained data throughput of 230.4 Kbps on each serial port
Easy migration from Serial to Ethernet systems
Roaming access to company IP network
QoS feature optimizes radio link and maximizes available 1.2 Mbps
Includes ControlPAK software!
Power Supply:
9 VDC to 30 VDC
Current (12 VDC):
Transmit: 600 mA
Receive: 95 mA
Serial Port:
RS-232
RXD, TXD, RTS, CTS, DCD, DSR, DTR
RS-422
Tx+, Tx–, Rx+, Rx–
RS-485
4-wire, 2-wire
Connectors:
Antenna
Reverse polarity TNC
Serial
DB9F/Screw down terminal connector
Ethernet
RJ45
Power
2.1mm centre-positive barrel plug
Enclosure:
Aluminum, Black Powder Coated
Dimensions:
4.75″ W x 1.73″ H x 3.75″ D
Technology:
Frequency-hopping spread spectrum (FHSS) / DTS
Operating Mode:
Master, Repeater, Remote
System Configuration:
Point-to-Point, Point-to-Multipoint, Store & Forward Repeater, Peer-to-Peer
Frequency Range:
902–928 MHz, ISM band
Hopping Patterns:
Automatically generated
Link Rate:
1.2 Mbps, 345 Kbps
Baud Rate & Data Format:
300 bps to 230.4 Kbps
Even / Odd / No Parity
7 or 8 Data Bits
Output Power:
100mW–1W (20–30 dBm)
Sensitivity:
–103 dBm @ 345 Kbps link rate
–97 dBm @ 1.2 Mbps link rate
Error Detection:
32-bit CRC, ARQ
Data Encryption:
128-bit WEP/WPA
Antenna Port:
RP TNC-F
Certification:
FCC, Industry Canada
ENVIRONMENTAL SPECIFICATIONS
| | |
| --- | --- |
| Operating Temperature: | –40oF to 176oF (–40oC to 80oC) |
| Humidity: | 0% to 95% non-condensing |
| | |
| --- | --- |
| Ethernet: | 10/100 BaseT, Auto – MDI/X, IEEE 802.3 |
| Network Protocols: | TCP, UDP, TCP/IP, TFTP, ARP, ICMP, DHCP, HTTP, SNMP V1/V2/V3, FTP, DNS, Serial-over-IP, QoS |
Power, COM1, COM2, LAN LINK, ACT, RSSI
Radio Configuration, Signal Strength, Poll Test
Stratos Elite
Stratos Elite –– our complete network visualization management system, is a powerful yet simple Windows-based interface for rapid wireless network deployment. It provides connectivity, visibility and manageability to sites and systems that were previously not online.
With Stratos Elite, you can:
Manage your Encom devices from a friendly user interface

Remotely control and configure your Encom devices

View and optimize the performance of your wireless network

Diagnose network and communication issues in real-time
Contact us for more information on Stratos Elite!