SKYSTYREAM LTE
The SKYSTREAM LTE offering is a standalone Industrial cellular solution, meant as a gateway device for any and all of your applications. It is a worldwide carrier approved M2M / IoT solution platform that keeps security, flexibility and power at the forefront of its features.  The SKYSTREAM LTE Device will handle anything you can throw at it!  Contact sales now to learn more.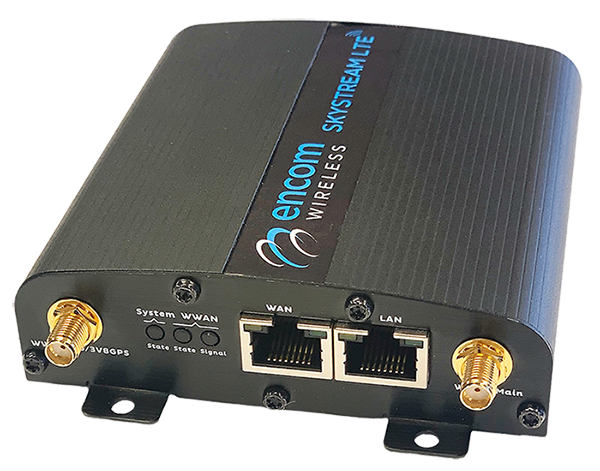 Cost Effective Worldwide 4G/LTE Speeds for all your M2M/IoT Applications. The SKYSTREAM LTE offers a low-profile rugged aluminum design for your critical infrastructure data communication applications. You can deploy the SKYSTREAM LTE into applications such as backhauling data, video streaming, failover from broadband radios and cut fiber, digital/variable message signs, vehicle tracking and more!  Add ENCOM Lightening Cards for easy to integrate add-on features.
Power-Over-Ethernet capability (PoE)
GPS Connectivity
Modular Add On Cards
Built in clips for DIN Rail Mounting
WAN/LAN Ports
IP Pass Through mode
Firewall Security
Fallback to 3G Network
Industries
Traffic
Digital Signs
Vehicle Tracking
Green Energy
Electrical Utilities
Wastewater Utilities
Remote Work
Cottage Country
Secure Remote Access
Industrial SCADA
Dimensions:
4.52 x 4.17 x 1.77 in (102 x 97 x 26 mm)
Weight:
10.05 oz. (220 g)
Enclosure:
Aluminum, Black Anodize
Antenna Connector:
SMA Male x2
Operating Temperature:
-30 °C to +70°C /-22°F to 158°F, Up to 95% humidity
Power input:

DC input voltage: 9-33 V DC

Connector: Micro -Fit 3.0TM, Dual row, 4-position

Indications:
System status LED and Signal Strength Indications
 
LTE
3G/2G
Supported Frequency Bands:

LTE FDD: B1, B2, B3, B4, B5, B7, B8, B12, B13, B18, B19, B20, B26, B28

TDD: 38/39/40/41

UMTS/HSDPA/HSUPA/HSPA+: 800-850/900/AWS

(1700/2100)/1800/1900/2100 MHz (B1, B2, B4, B5, B6, B8, B19)

Max Connectivity Speeds:
Category 4 (150 Mbsp Downlink, 50 Mbps Uplink)
DC-HSPA+ Downlink 42 Mbps, Uplink 5, Mbps
Rx Diversity
Simultaneous Equalization and Rx Diversity on all bands
Antenna Configuration:

1 x SMA: Cellular Main

1 x SMA: Cellular MIMO/DIV/GPS

SIM:
Micro SIM
GPS:
GPS antenna support
Certifications:
CE, FCC, PTCRB, ISEO
Approved Carriers
AT&T, VZW, US Cellular, Bell, Rogers, TELUS
| | |
| --- | --- |
| Ethernet port (10/100 Base-1) | 2 (One for LAN and one for WAN connection) |
| Configuration, Monitoring & Control | WEB UI |
| | Non-Integrated Unit | Integrated Antenna Unit |
| --- | --- | --- |
| Dimensions | 8.6" x 8.6" x 3.17" | 10.15" x 10.15" x 4.5" |
| Weight | 3 lb. | 5 lb. |
| Environmental | IP67 Weather Protection Rating | IP67 Weather Protection Rating |
| Antenna Type: | 2x N-Type connectors for external antenna | 20 dBi Dual Polarity Panel Antenna |
| Operating Temperature: | -40°F to +176°F @ 95% humidity RHNC | -40°F to +176°F @ 95% humidity RHNC |
| Number of Radio Units: | Up to 2 | Up to 2 |
Frequency Range:
4.920- 6.100 GHz (*Subject to Country Regulation)
Peak Transmit Power:
30 dBm (1W)
Receive Sensitivity:
-96 dBm to -72 dBm
Channel Widths:
5 MHz, 10 MHz, 20 MHz, 40 MHz and 80 MHz
Modulations:
OFDM, BPSK, QPSK, 16QAM, 64QAM, 256QAM
Protocol:
IEEE 802.11a/n/ac, E-max (proprietary)
Data Rate:
Up to 866 Mbps in 802.11ac mode
Up to 300 Mbps in 802.11n mode
Up to 54 Mbps in 802.11a mode
MIMO:
2×2
Topology:
Point-to-Point, Point-to-Multipoint
Power
50-57 VDC Ethernet Port (802.3af/at Power Over Ethernet)
Consumption
ENERGY 5 INT: 17W + PoE Output
ENERGY 5 EXT: 17W + PoE Output
ENERGY 5 DUAL: 19W + PoE Output
Reset to Default
Built-in button
Alignment
Built-in LED Alignment: 4 Level LED Strip (-60 to -100 dBm)
GPS
Built-in GPS for location tracking
PoE Out
Port #2: PoE Out (802.3 af, MAX 13W) & Data
Topology:
Point-to-Point, Point-to-Multipoint
ATMOS
Visualize, Monitor, and Control All Your Network Devices from the Cloud!
ATMOS is the evolution of our advanced network visualization management and control system. All the features of Stratos are now available using our secure web-based platform.
Key Benefits:
Real time visibility of valuable data about each site's "health" – eliminates guesswork and improves response times

Data logging for analysis – dramatically improves preventative maintenance planning

Immediate alerts for downed site(s) – respond to site issues as required instead of waiting for scheduled maintenance or being notified by public service requests.

Real time monitoring – reduce cost & improve staff and resource planning! Your entire system is visible from one location
Contact us for more information on ATMOS!