With ATMOS you can now monitor devices that were otherwise not meant to be viewed remotely. Encom Cloud platform works in conjunction with a cellular network to bring back valuable data from remote field devices where cellular might be the only option for connectivity. Expand your network of monitoring capabilities with ATMOS.
Key Benefits:
ATMOS shows the location and status of all Encom cellular sites all in one platform. Whether you are monitoring remote solar locations, flood warning beacons, advanced warning systems, school zone flashing beacons or just the cellular modem. ATMOS allows you to configure, control and monitor these applications from anywhere. 
The map displays all your Encom Cellular devices, and the status of your solar-powered sites and flashing beacons. Managing the network is simple with color-coded icons showing at a glance which devices are Online or Offline. Hover over or click any icon to view detailed information for each site.
The Historical Graphs will be your go to tool to identify charge controller output current. The charge controller takes the power from the solar panel and controls the battery charging process. The more efficient and effective the solar panels, the more charge current is present and the faster the battery gets charged during daylight hours. By measuring and displaying the charge controller output current, you can truly understand the health of your solar power charging system. Dirty or misaligned panels will have lower charge output than panels operating under optimal conditions. By reviewing real-time and historical charge output information, you will know when to schedule preventative maintenance like panel cleaning. If no charge current is present during the day, you can be alerted to a problem such as wiring disconnection, vandalism, or theft.
When you need to verify the state of the lamps or the status of the solar panel, the historical events allows you to compile a years worth of events. This now allows you to see what happened on any given day without having to be in the field. any persistent issues with a particular site. When you send maintenance crew to the site, they will already have an idea of what the problem is and can ensure that they have the appropriate tools to repair or replace the faulty equipment.
ATMOS allows management to review what commands are made to each device. This is incredibly beneficial as every change a user makes syncs to the cloud. Never be in the dark about a potential mistake. 
Commands such as:
Device Configurations
Schedule Updates and Overrides 
Output Overrides
Status Commands
Solar Panel Output Voltage can be monitored from a central location, you can see exactly how much power each and every solar array is generating at any time during the day. This information is displayed in real time, and also logged for historical comparison. The Diagnostic window also contains the Digital IO, Signal Strength and Schedule Assignment windows.
ALARM NOTIFICATIONS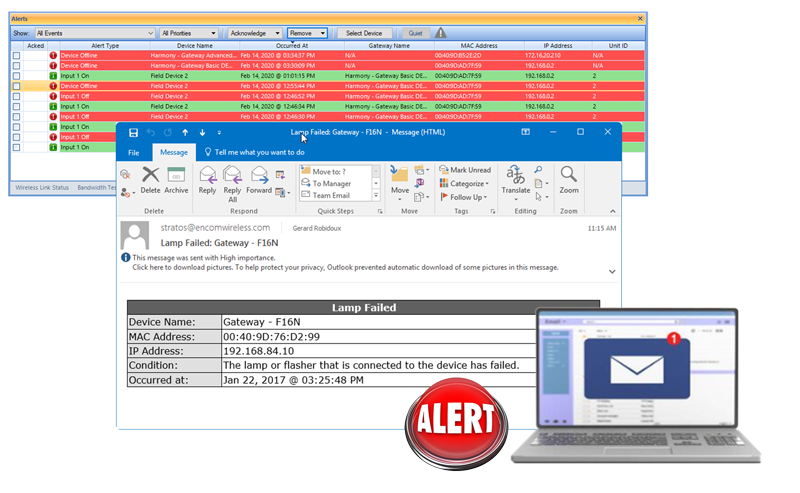 User definable pop up alerts in ATMOS and email notifications and SMS alerts can be sent out to any number of personnel responsible for the maintenance and operation of the system.  Alerting them to a potential problem well in advance of a total site failure. Historical log of alerts/alarms are saved within ATMOS for future review. This running error log can provide important data about problematic sites and enabled operators to make informed decisions about which sites require additional maintenance or upgrades.
Stay Informed
Let us keep you informed on the latest updates on ATMOS. We have some exciting releases coming, don't miss out!