STRATOS ELITE
Encom STRATOS ELITE is our complete network visualization management system providing connectivity, visibility, and manageability to sites and systems that were previously not 'online'.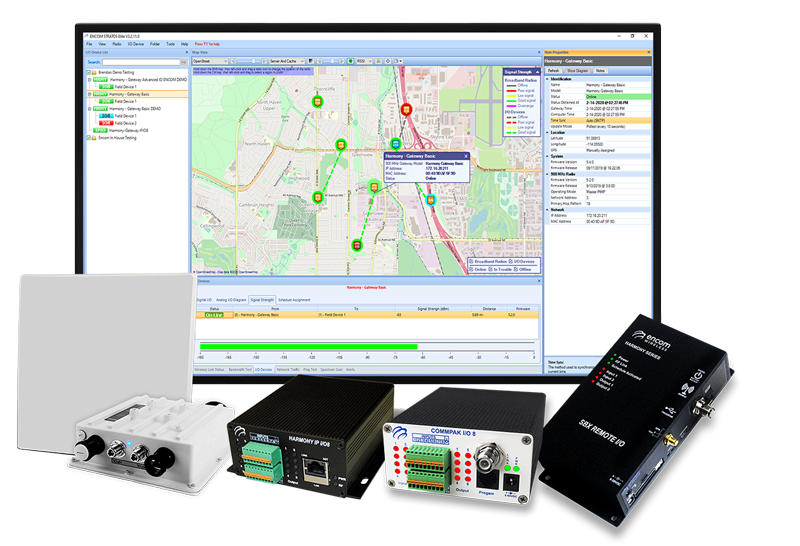 No matter your current network mix, with Encom Stratos Elite central software you can now monitor devices that were otherwise not meant to be viewed remotely.
The Encom platform is interoperable with any private Ethernet network (fiber optic, copper, or wireless), and can be used in conjunction with a cellular network to bring back valuable data from any type of field device––no matter its age, type, or location.
Some of the key benefits are:
NETWORK VISUALIZATION MANAGEMENT SYSTEM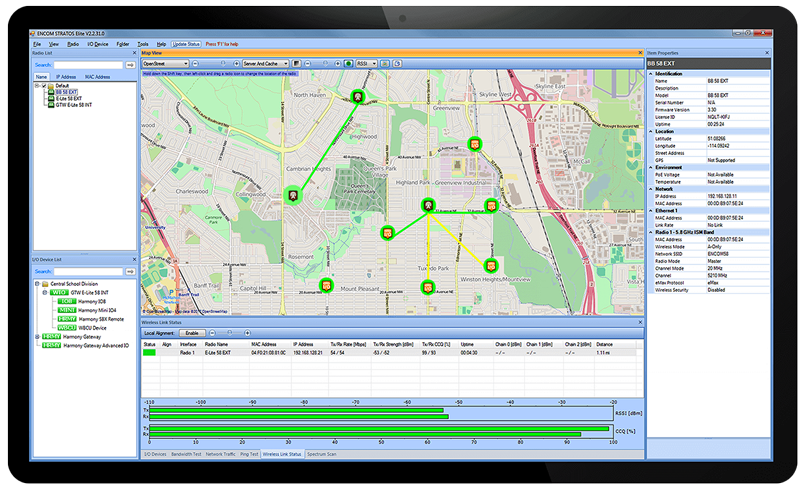 MAIN DASHBOARD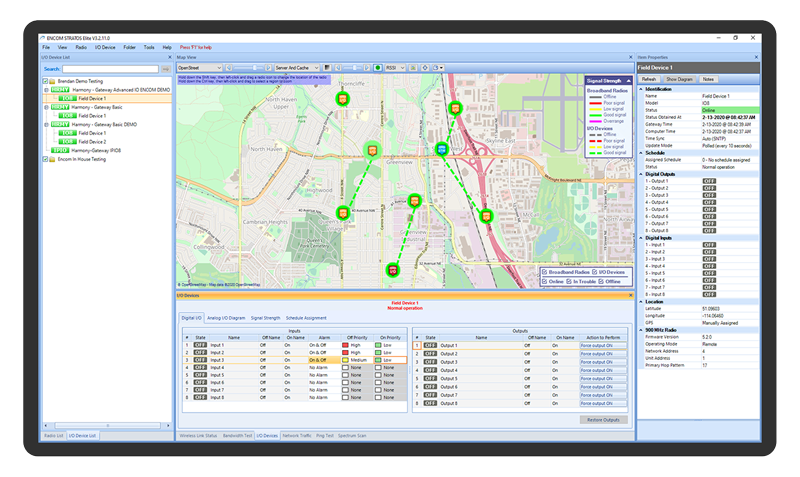 Encom Stratos shows the location and status of all sites within the network – Encom Broadband and Harmony devices all on one map. Imagine being able to view and log the status of all of your solar powered sites in the entire city/country. View and manage city/statewide school zone beacons from the comfort of your central office.
The main dashboard in Stratos Elite is the focal point for monitoring and managing all of your wireless devices. Not only does this dashboard show you the status of the Encom wireless network devices but it also provides real time health status of your other site equipment.
The map displays all your Encom broadband radios, Harmony devices, and the status of your solar powered sites and flashing beacons. Managing the network is simple with color-coded 'link' lines showing the status of all the wireless links in the network. Hover over or click any icon to view detailed information for each site.
With easy to identify color-coded icons, you can quickly see if a site or sites are online or offline. You can also view historical logs to see if there are any persistent issues with a particular site. When you send maintenance crew to the site, they will already have an idea of what the problem is and can ensure that they have the appropriate tools to repair or replace the faulty equipment.
ONLINE/OFFLINE STATUS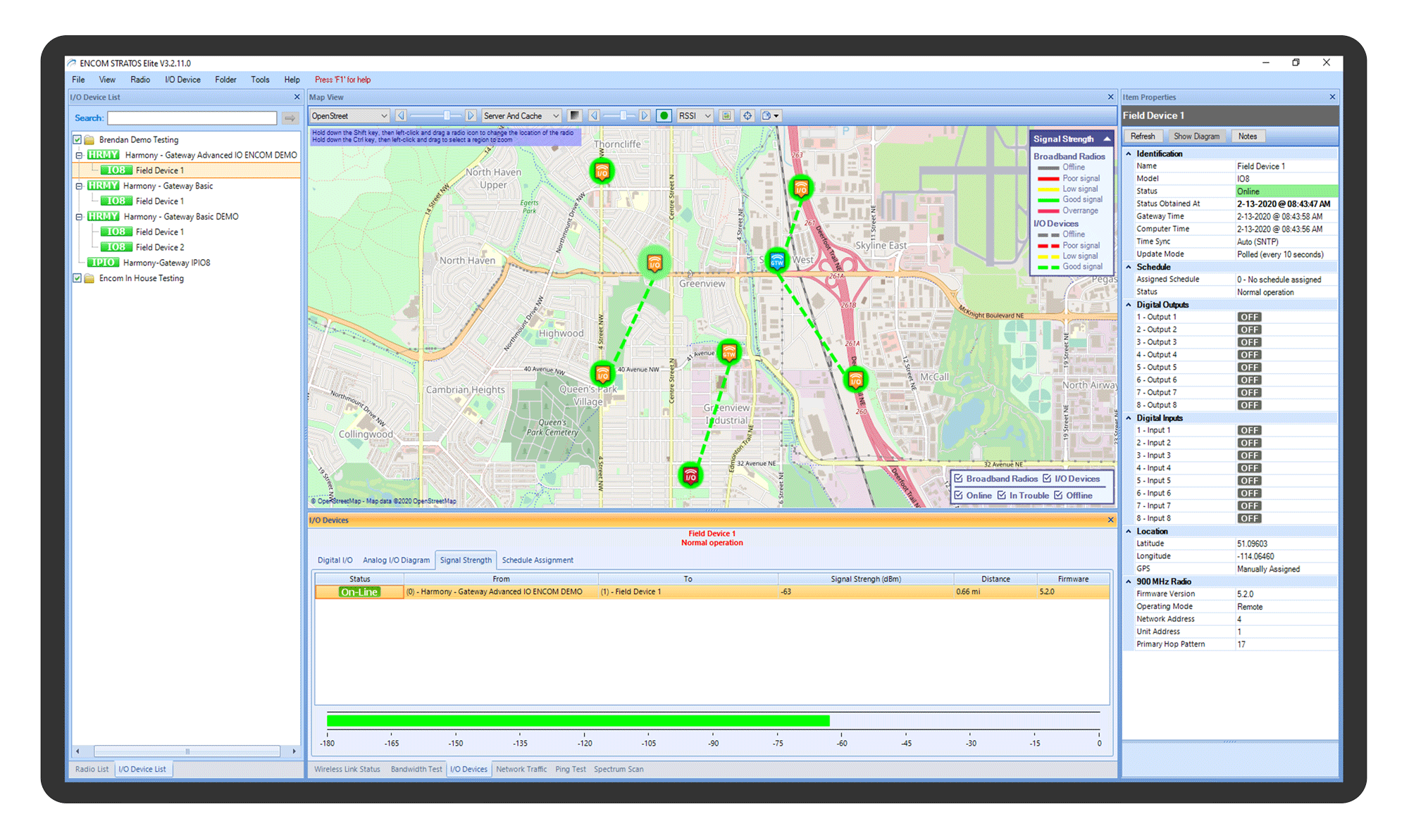 SCHEDULE EDITOR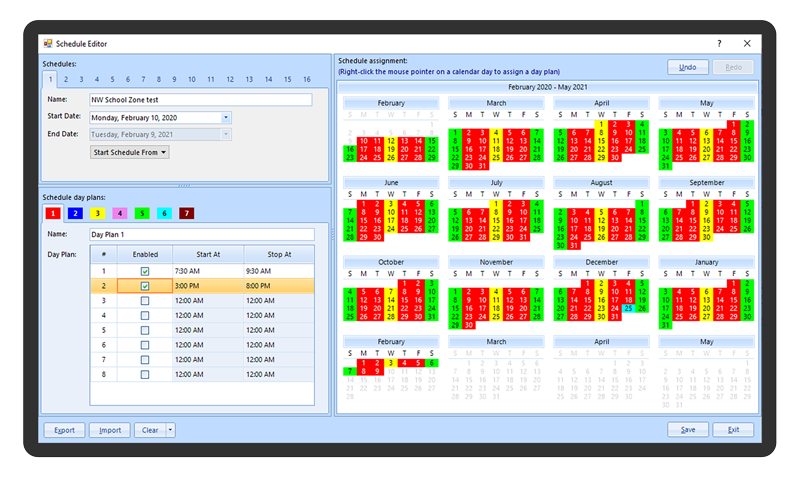 With Stratos Elite, you can easily create and download schedules to all School Zone Flashing beacon sites in your city, county or state.
Some core functionality:
Centrally create, download, and manage all school zone beacon schedules

Easily send schedules to groups of beacons or individual beacons

Manual override with timed resumption provides ultimate flexibility and foolproof reliability
Stratos Elite directly monitors LED Lamp Status so you know if the LEDs are operating properly. Many systems only monitor the relay that controls the lamp's flashing and not the beacon status itself. Using harmony devices, Encom Stratos can monitor up to 2 separate beacons at one site.
LAMP STATUS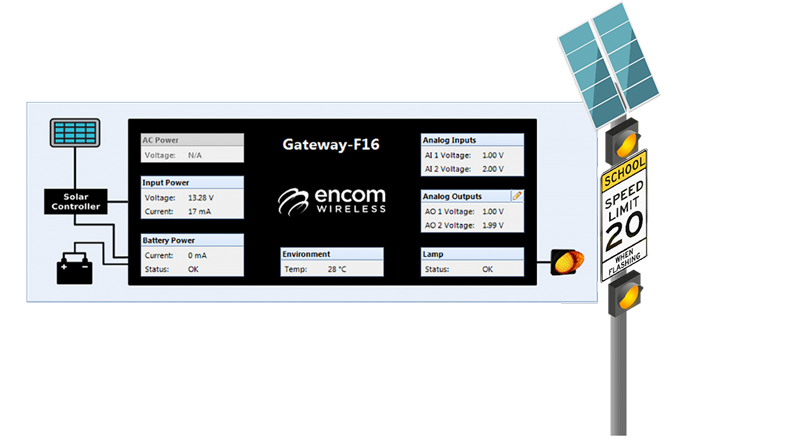 SOLAR MONITORING SYSTEMS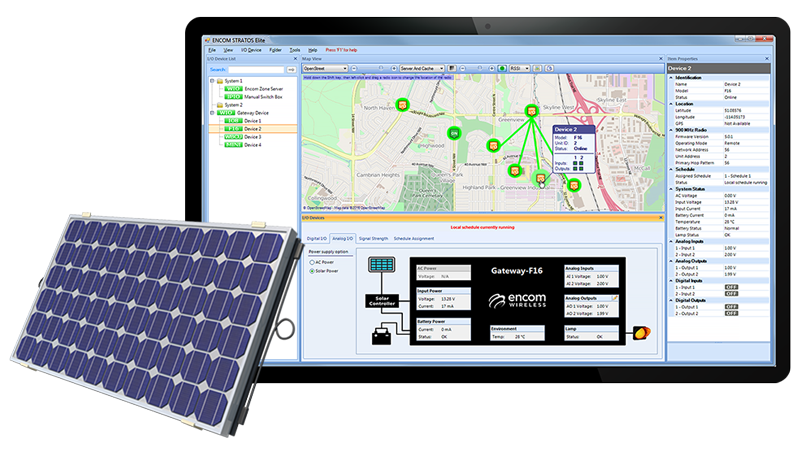 Know exactly how much power each solar array is generating at any given time during the day. Solar panel output voltage information is displayed in real time and is logged for historical comparison.
User-defined popup alerts within Stratos Elite, along with email notifications which can be sent out to any number of personnel responsible for maintaining the system, alert you to potential problems well in advance of total site failure.
All alarms and alerts are saved within Stratos Elite for future review. This running error log can provide important data about problematic sites and enables operators to make informed decisions about which sites require additional maintenance or upgrades.
ALARM REPORTING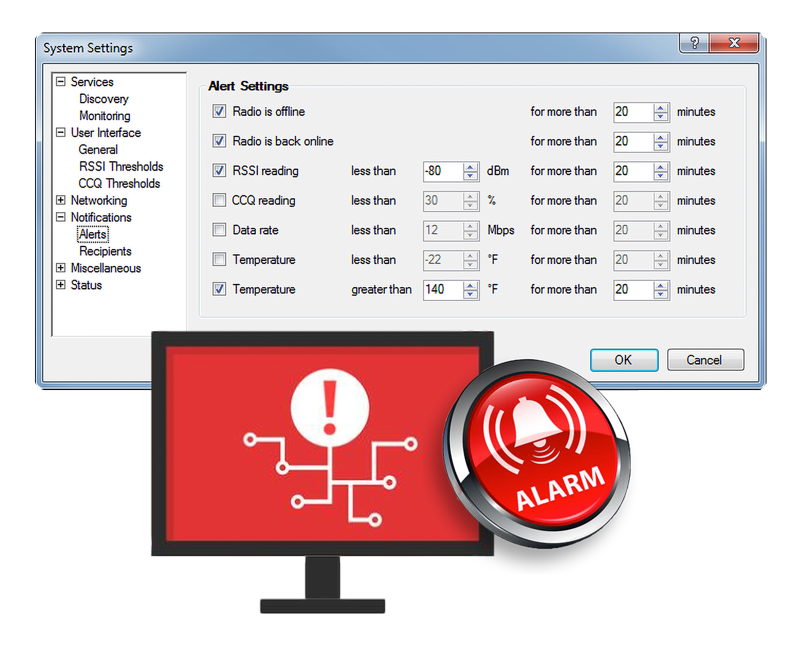 EMAIL ALERTS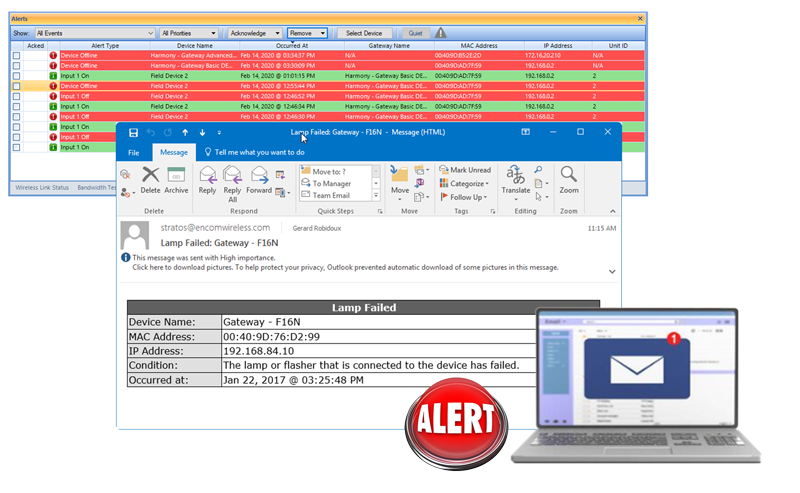 Low wireless signal level

Site offline for pre-defined time limit

Site back online

Low battery

Lamp fail

Low solar output

Low beacon current (Beacon 1 or 2)

Power outage (needs battery backup on the radio)

User-configurable alarms and alerts

Thresholds for any of the above alarms

"And/Or" condition parameters to generate more specific alarms